If Targeted Traffic To Your Site Increased By 257%
What Would That Do To Your Profits?
SEO Consultant Uncovers A 10 Step System That Will Take Any Website To The Top Of Google
Are you a business owner looking to:
Increase the number of targeted leads to your business
Reduce your marketing costs
Become an authority in your market
Then download the free report "The 10 Step Traffic System"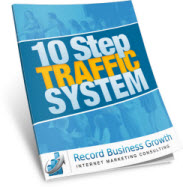 Inside you will discover the unique way to position your business
and website 1st in the search engines and first in the minds of buyers in your market place.
Discover precisely who your ideal customer is and what they are looking for to help bring in buyers and not tyre kickers to your business.
The biggest mistake that people make when creating the content for their site and how you can change it if you've already made this mistake. (it's not too late)
The 3 most important aspects of any website. Without this your conversion rates will be crushed.
How to get traffic from websites in the Top 100 most visited sites in the world. (this also helps the seo of your own site)
How to use Google to quickly get front page listings and get your story in front of thousands of people.
Leverage the 3rd most popular site in the world whilst creating attention towards your business on the front page of Google.
Why people are using Facebook completely the wrong way
and how you can zero in on your market for a fraction of the cost of regular advertising.
How to use twitter to constantly drive targeted traffic back to your site. This search engines love this. (Most SEO companies aren't doing this)
How to broadcast your message for free and position yourself as a market leader.
Discover how to leverage your existing advertising for even
better results.
The 6 key questions you must ask your SEO Consultant before engaging their services in 2011.
After you have downloaded the free report below,
Call Nick on 0410 066 868
to discuss your SEO and internet marketing needs. If you prefer you can
contact us here
.